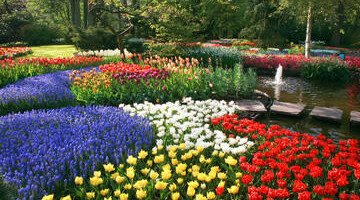 Dutch Bulbfields – Amsterdam & Volendam
Travel Date(s) - 12/04/2018 - 16/04/2018
Price: £449.00
Single Supplement: £80.00
Staying at The Spaander Art Hotel, Volendam
A spectacular visit to the Netherlands staying at the superbly positioned Spaander Art Hotel in the centre of Volendam overlooking the largest lake in western Europe. The lakeside village is one of the most unique in Holland with its attractive small Dutch houses where traditional costume is worn by both male and female. The hotel has treasures of bygone days including pictures and artifacts and has a traditional Dutch feeling within it. During our stay we will be visiting Amsterdam and the world famous Keukenhof Bulbfield Park which can only be described as the most colourful flower show in Europe.
LANCASHIRE PICK UP 
Itinerary
Day 1 - After your personal door to door pick up we join our coach and travel to York then onto the port of Hull for our overnight crossing to Europort Rotterdam. Accommodation for the crossing is outside cabins with side by side berths and onboard entertainment.
Day 2 - On arrival in Holland we clear customs and board our coach for an included visit to Amsterdam, the rest of the day free to do as you please, maybe take a canal sail, visit the red light district or Anne Frank's house. We then rejoin our coach and drive the short distance to Volendam for dinner and a stay of two nights.
Day 3 - After breakfast we board the boat moored close to the hotel for an included sail across to Marken which is a traditional village of Dutch wooden houses and shops, after time here we join our coach which will take us to a local Dutch clog makers & cheese shop before returning to Volendam where the rest of the day can be spent exploring the ancient village before evening dinner at the hotel.
Day 4 - After a leisurely breakfast we leave our hotel, board our coach and then drive the bulb field route to what is probably the highlight of the tour Keukenhof Park where we have included entrance to this spectacular display of bulb flowers. Late afternoon we depart Keukenhof for our journey via Rotterdam to Europort for our overnight sailing to Hull with accommodation in outside cabins with low berths and onboard entertainment.
Day 5 - On arrival in Hull we clear customs, join our coach and drive to our home areas arriving home mid afternoon, after our exclusive door to door service.
Holiday Includes
Door to Door pick up & return by our own personnel
All coach travel as listed
2 nights accommodation at the three star Volendam Art Hotel
2 nights accommodation on board ship
2 x 3 course dinners
2 x full continental breakfasts
Entrance to Keukenhof park
Visit to Amsterdam
Isselmeer crossing from Volendam to Marken
Please note: Meals onboard ship - 2 cooked breakfasts & 2 x 5 course dinners can be included for £52.00pp. A passport. EHIC card and adequate insurance are required for this holiday. Currency in Holland is the Euro.
Facilities
The hotel has a lift
All rooms en-suite
WiFi available